"My work is a comment on contemporary society; a consumerist, technologically rapidly expanding society, where objects once treasured and passed down from generation to generation, become redundant and disposable.
These discarded objects, once prized and loved, are perceived as valueless and thrown out as hard garbage.  I collect these objects and integrate them into my art practice, transforming them into installations, paintings and photographs, which, hopefully, create an individual and original aesthetics, thus adding value to that which is devalued. I follow in the footsteps of artists of the Arte Povera movement, and contemporary artists whose building blocks are found objects and disarded materials.
Subjective perceptions, collective associations and memory are the anchors which bond my sometimes autobiographical practice. I draw on remote childhood memories where broken chairs became thrones and bed sheets and planks, cubby houses and palaces. In my installations and photographs I try to recapture the magic and innocence of imaginative play creating portals into alternate, psychological landscapes. When people, through their own associations, identify with my idiosyncratic vision, I feel I have succeeded."

- TIziana Borghese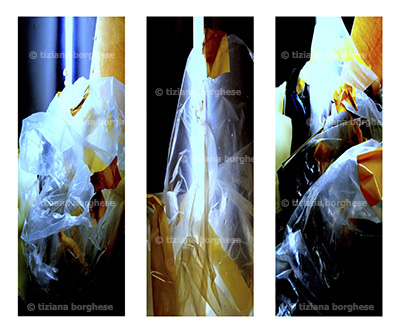 "Finding Beauty in the Mundane" ©Tiziana Borghese
Italian-born Australian Tiziana Borghese lives and works in Melbourne, Australia, having migrated from Italy at the age of six. She is a graduate of the University of Melbourne, having achieved a Bachelors of Arts (majoring in Fine Arts and Italian), a Graduate Certificate of Visual Art, a Postgraduate Diploma of Visual Art and a Master of Visual Art from the Victorian College of the Arts, a Faculty of Melbourne University. She also holds a Postgraduate Diploma in Human Resource Management.

She has exhibited extensively internationally and locally, and in 2008 was the winner of the Terry Cutler Acquisitive Art Award and a finalist in the Athenaeum Club Art Prize. She was invited to participate in an "artists in residence" in New York (2010) and has also been selected to participate in an art research residency in Prato, Italy in 2011.  Her most recent international exhibitions were in Chelsea, New York in April 2010, Upper New York in May 2010 and Miami, November 2010. Locally she has exhibited at the Centre for Contemporary Photography, Brunswick Street Galleries, Guilford Lane Galleries, Pigment Gallery, Steps Gallery, The Atrium, amongst others and her work is held in a number of international and local private collections.